Rhonda's Rich Mullins Page
---


It was just this past June (1997) that I last saw Rich Mullins in concert. He came to Georgia and although it was quite a drive from our home in Tennessee, my husband and I couldn't resist...he was our favorite. I had written a review of Rich's concert years before for CCM Magazine and so I took a copy of it for him to sign that night. Before the show I met Rich backstage and we chatted...about Bear's death and his hesitance to get a new dog because he didn't have time to train it...about the Canticle and the reservation...then I gave him the magazine to sign. "Oh, I have never read this review before," he exclaimed and so we sat in silence while he read. I thought of the night I had written it. How I sat in my seat during the show and thought to myself, "How in the world will I ever put this man into words?" There aren't enough adjectives in the English language to describe a Rich Mullins concert. I did my best and finally three years later Rich would place his familiar scrawl across the top as we chatted more about radio and Gospel Music week in Nashville where we had last spoke. It was show time and so I went back out and took my seat and soaked in his music and profound insights for the next few hours. During intermission I ran out to my car to put my magazine away...I passed Beaker holding Aidan in the parking lot and Rich emerging from his Jeep to greet them. I thought of saying one last goodbye but didn't - "I'll see him again later," was my thought. My husband and I had to leave the concert early to get back home. The Sunday after the accident I had just arrived back from chaperoning a Youth Retreat to hear the dreadful news. I was devastated and my tears confounded me. I had no right to grieve for him as I did. Afterall, I was just a mere aquaintance but what I think I really cried for was that I would never hear him sing again and all the beautiful music he was on the verge of penning was now snuffed out - and I would never know them. Being in the Christian Music Industry, I have interviewed and met a lot of christian artists - from Carman to Amy Grant - and so I speak from experience when I say there was none more humble nor more brilliant than Rich Mullins. It is no wonder God wanted him home.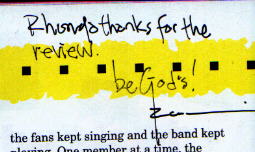 You are welcome Rich and...I will.
Special thanks to Danl Blackwood whose Mailing List tipped me off to the concert date in Georgia. Also thanks to Brian William for his extensive website on Rich - great job Brian! Thanks to Diana for adding me to her Rich Links and thanks to my friend Cathy for endless HTML advice and to Tracy Guynes for helping us all light our candles...
Please E-Mail me at RobNRhonda@yahoo.com and thanks for visiting my page.
"Precious in the sight of the Lord is the death of His saints."
Psalms 116:15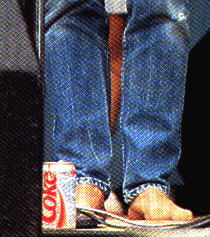 Click on the mag to read the review!


AOL Visitors = 5617 Tripod Visitors =
Photos from the DOVE AWARDS where Rich wins ARTIST OF THE YEAR
FOR SUCH A TIME AS THIS: AN INTERVIEW WITH DAVE MULLINS
DAVE MULLINS: THE REAL LIFE KID BROTHER INTERVIEW
(updated 11/98 with a Legacy update and family photographs)